Filters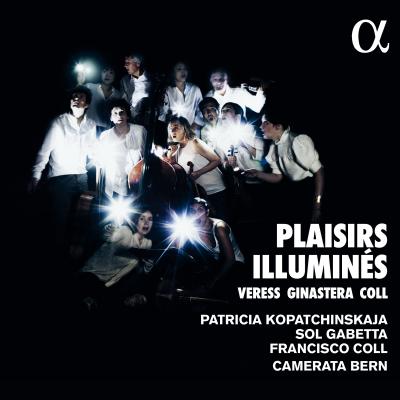 Inlay available for download
Booklet available for download
Musica concertante per 12 archi: I. Improvisation

Composer(s)

Sándor Veress

Artist(s)

Patricia Kopatchinskaja

Camerata Bern

Musica concertante per 12 archi: I. Improvisation

$3.40

Musica concertante per 12 archi: II. Meditation

Composer(s)

Sándor Veress

Artist(s)

Patricia Kopatchinskaja

Camerata Bern

Musica concertante per 12 archi: II. Meditation

$3.40

Musica concertante per 12 archi: III. Action

Composer(s)

Sándor Veress

Artist(s)

Patricia Kopatchinskaja

Camerata Bern

Musica concertante per 12 archi: III. Action

$2.30

Games, Signs and Messages: Jelek VI

Composer(s)

György Kurtág

Artist(s)

Patricia Kopatchinskaja

Thomas Kaufmann

Marko Milenkovic

Games, Signs and Messages: Jelek VI

$2.30

Concerto per corde, Op. 33: I. Variazioni per i Solisti

Composer(s)

Alberto Ginastera

Artist(s)

Patricia Kopatchinskaja

Camerata Bern

Concerto per corde, Op. 33: I. Variazioni per i Solisti

$3.40

Concerto per corde, Op. 33: II. Scherzo fantastico

Composer(s)

Alberto Ginastera

Artist(s)

Patricia Kopatchinskaja

Camerata Bern

Concerto per corde, Op. 33: II. Scherzo fantastico

$2.30

Concerto per corde, Op. 33: III. Adagio angoscioso

Composer(s)

Alberto Ginastera

Artist(s)

Patricia Kopatchinskaja

Camerata Bern

Concerto per corde, Op. 33: III. Adagio angoscioso

$2.30

Concerto per corde, Op. 33: IV. Finale furioso

Composer(s)

Alberto Ginastera

Artist(s)

Patricia Kopatchinskaja

Camerata Bern

Concerto per corde, Op. 33: IV. Finale furioso

$2.30

Duo Pizzicato

Artist(s)

Patricia Kopatchinskaja

Sonja Starke

Duo Pizzicato

$2.30

Baladă şi joc

Composer(s)

György Ligeti

Artist(s)

Patricia Kopatchinskaja

Suyeon Kang

Baladă şi joc

$2.30

Les Plaisirs illuminés: I. Praeludium – Dialog – Postludium

Composer(s)

Francisco Coll

Artist(s)

Patricia Kopatchinskaja

Camerata Bern

Sol Gabetta

Les Plaisirs illuminés: I. Praeludium – Dialog – Postludium

$2.30

Les Plaisirs illuminés: II. Wiegenlied

Composer(s)

Francisco Coll

Artist(s)

Patricia Kopatchinskaja

Camerata Bern

Sol Gabetta

Les Plaisirs illuminés: II. Wiegenlied

$2.30

Les Plaisirs illuminés: III. Alegrías – zweiter Dialog

Composer(s)

Francisco Coll

Artist(s)

Patricia Kopatchinskaja

Camerata Bern

Sol Gabetta

Les Plaisirs illuminés: III. Alegrías – zweiter Dialog

$2.30

Les Plaisirs illuminés: IV. Lamento – Epilog

Composer(s)

Francisco Coll

Artist(s)

Patricia Kopatchinskaja

Camerata Bern

Sol Gabetta

Les Plaisirs illuminés: IV. Lamento – Epilog

$2.30

LalulaLied

Composer(s)

Francisco Coll

Artist(s)

Patricia Kopatchinskaja

Käthi Steuri

Suyeon Kang

LalulaLied

$2.30

Camerata's Birds (Improvisation)

Composer(s)

Camerata Bern

Camerata's Birds (Improvisation)

$2.30
Total running time: 74 minutes.





Album information

This world premiere recording of the double concerto for violin, cello and orchestra by the Spanish composer Francisco Coll (b. 1985) is performed by Patricia Kopatchinskaja and conducted by the composer. It won the 2022 BBC Music Magazine Concerto Award.

Les Plaisirs Illuminés, a title inspired by Dalí's painting of the same name, is rooted in Spanish traditions, including flamenco, yet is resolutely modern: 'Its music is very lively rhythmically, it dances and sings – but at the same time it is very abrupt, always in search of extremes', says Patricia Kopatchinskaja. The popular violinist is reunited with a longstanding partner who pursues an equally brilliant international career, the cellist Sol Gabetta.

The programme also features the Musica concertante for twelve strings by the Hungarian-born Swiss composer Sándor Veress, premiered by the Camerata in Bern in 1966. A year earlier, the Argentinian composer Alberto Ginastera wrote his fascinating Concerto for Strings. A kaleidoscope of colours and sounds from all over the world...
Related Artists
Reviews