Filters
Prokofiev: Violin Concerto
Prokofiev: Violin Concerto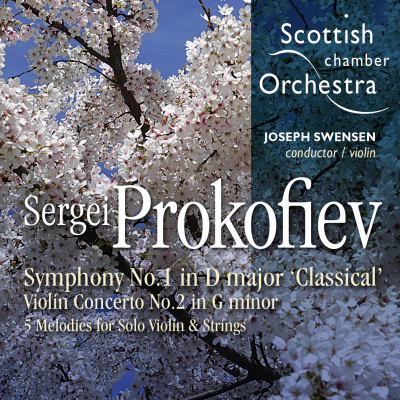 Booklet available for download
Symphony No. 1 in D Major 'Classical' Allegro

Composer(s)

Sergei Prokofiev

Symphony No. 1 in D Major 'Classical' Allegro

$2.30

Symphony No. 1 in D Major 'Classical' Larghetto

Composer(s)

Sergei Prokofiev

Symphony No. 1 in D Major 'Classical' Larghetto

$2.30

Symphony No. 1 in D Major 'Classical' Gavotta: Non troppo allegro

Composer(s)

Sergei Prokofiev

Symphony No. 1 in D Major 'Classical' Gavotta: Non troppo allegro

$2.30

Symphony No. 1 in D Major 'Classical' Finale: Molto vivace

Composer(s)

Sergei Prokofiev

Symphony No. 1 in D Major 'Classical' Finale: Molto vivace

$2.30

Violin Concerto No. 2 in G minor <i>Allegro Moderato</i>

Composer(s)

Sergei Prokofiev

Artist(s)

Joseph Swensen

Joseph Swensen - violin

Violin Concerto No. 2 in G minor Allegro Moderato

$4.60

Violin Concerto No. 2 in G minor <i>Andante assai</i>

Composer(s)

Sergei Prokofiev

Artist(s)

Joseph Swensen

Joseph Swensen - violin

Violin Concerto No. 2 in G minor Andante assai

$3.40

Violin Concerto No. 2 in G minor <i>Allegro ben marcarto</i>

Composer(s)

Sergei Prokofiev

Artist(s)

Joseph Swensen

Joseph Swensen - violin

Violin Concerto No. 2 in G minor Allegro ben marcarto

$2.30

Five Melodies for Solo Violin and Strings <i>Andante</i>

Composer(s)

Sergei Prokofiev

Artist(s)

Joseph Swensen

Joseph Swensen - violin

Five Melodies for Solo Violin and Strings Andante

$2.30

Five Melodies for Solo Violin and Strings <i>Lento non troppo</i>

Composer(s)

Sergei Prokofiev

Artist(s)

Joseph Swensen

Joseph Swensen - violin

Five Melodies for Solo Violin and Strings Lento non troppo

$2.30

Five Melodies for Solo Violin and Strings <i>Animato, ma non allegro</i>

Composer(s)

Sergei Prokofiev

Artist(s)

Joseph Swensen

Joseph Swensen - violin

Five Melodies for Solo Violin and Strings Animato, ma non allegro

$2.30

Five Melodies for Solo Violin and Strings <i>Allegretto leggero et scherzando</i>

Composer(s)

Sergei Prokofiev

Artist(s)

Joseph Swensen

Joseph Swensen - violin

Five Melodies for Solo Violin and Strings Allegretto leggero et scherzando

$2.30

Five Melodies for Solo Violin and Strings <i>Andante non troppo</i>

Composer(s)

Sergei Prokofiev

Artist(s)

Joseph Swensen

Joseph Swensen - violin

Five Melodies for Solo Violin and Strings Andante non troppo

$2.30
Total running time: 54 minutes.

Album information

Linn Records continues its successful partnership with the Scottish Chamber Orchestra with this, the sixth release in the series. This delightful all-Prokofiev programme adds another dimension to the indispensable SCO series.

SCO Principal Conductor Joseph Swensen is the soloist in both Violin Concerto No. 2 and the 5 melodies. The melodies have been orchestrated by Swensen himself.

Joseph Swensen writes: "The Five Melodies had been among my favourite works by Prokofiev for many years before I chose to orchestrate them. The original accompaniment is among the most colourful of the composer's works for the piano and it was precisely the element of colour which intrigued me most in my orchestration. Limiting myself to strings, and to only the notes of Prokofiev's original piano part, my intention was that this version be but a subtle evolution of Prokofiev's original. Use of harmonics, pizzicato, and blurring effects are inspired by what a truly great pianist may attempt on his instrument, but only allude to. The obvious influence of Debussy in Prokofiev's original has resulted in an orchestral sound which seems equally indebted to the great French composer."
Related Artists
Reviews