Filters
Artist
Ensemble Contraste
Johan Farjot
Arnaud Thorette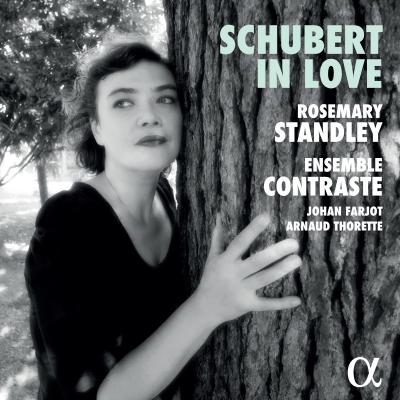 Inlay available for download
Booklet available for download
Schwanengesang, D. 957: IV. Ständchen 'Leise flehen meine Lieder'

Composer(s)

Franz Schubert

Artist(s)

Arnaud Thorette

Rosemary Standley

Ensemble Contraste

Johan Farjot

Airelle Besson

Schwanengesang, D. 957: IV. Ständchen 'Leise flehen meine Lieder'

$2.30

Winterreise, D. 911 Op. 89: I. Gute Nacht

Composer(s)

Franz Schubert

Artist(s)

Arnaud Thorette

Rosemary Standley

Ensemble Contraste

Johan Farjot

Winterreise, D. 911 Op. 89: I. Gute Nacht

$2.30

Winterreise, D. 911 Op. 89: IX. Irrlicht

Composer(s)

Franz Schubert

Artist(s)

Arnaud Thorette

Rosemary Standley

Ensemble Contraste

Johan Farjot

Winterreise, D. 911 Op. 89: IX. Irrlicht

$2.30

Improvisation on Arpeggione Sonata, D. 821

Composer(s)

Franz Schubert

Artist(s)

Arnaud Thorette

Ensemble Contraste

Johan Farjot

Airelle Besson

Improvisation on Arpeggione Sonata, D. 821

$2.30

Heidenröslein, D.257 Op.3 No. 3

Composer(s)

Franz Schubert

Artist(s)

Arnaud Thorette

Rosemary Standley

Ensemble Contraste

Johan Farjot

Heidenröslein, D.257 Op.3 No. 3

$2.30

Die Schöne Müllerin, D. 795 Op. 25: XVIII. Trockne Blumen

Composer(s)

Franz Schubert

Artist(s)

Arnaud Thorette

Rosemary Standley

Ensemble Contraste

Johan Farjot

Die Schöne Müllerin, D. 795 Op. 25: XVIII. Trockne Blumen

$2.30

Impromptu in G-Flat Major, D. 899 Op. 90 No. 3

Composer(s)

Franz Schubert

Artist(s)

Arnaud Thorette

Ensemble Contraste

Johan Farjot

Impromptu in G-Flat Major, D. 899 Op. 90 No. 3

$2.30

Auf dem Wasser zu singen, D. 774 Op. 72

Composer(s)

Franz Schubert

Artist(s)

Arnaud Thorette

Rosemary Standley

Ensemble Contraste

Johan Farjot

Auf dem Wasser zu singen, D. 774 Op. 72

$2.30

Nacht und Träume, D. 827 Op. 43

Composer(s)

Franz Schubert

Artist(s)

Arnaud Thorette

Rosemary Standley

Ensemble Contraste

Johan Farjot

Nacht und Träume, D. 827 Op. 43

$2.30

Ave Maria, D. 839 Op. 52 No. 6

Composer(s)

Franz Schubert

Artist(s)

Arnaud Thorette

Ensemble Contraste

Johan Farjot

Airelle Besson

Ave Maria, D. 839 Op. 52 No. 6

$2.30

Improvisation on Symphony no.8 in B Minor, D. 759 "Unfinished"

Composer(s)

Franz Schubert

Artist(s)

Arnaud Thorette

Ensemble Contraste

Johan Farjot

Improvisation on Symphony no.8 in B Minor, D. 759 "Unfinished"

$2.30

Der Tod und das Mädchen, D. 531 Op. 7

Composer(s)

Franz Schubert

Artist(s)

Arnaud Thorette

Rosemary Standley

Ensemble Contraste

Johan Farjot

Der Tod und das Mädchen, D. 531 Op. 7

$2.30

Winterreise, D. 911 Op. 89: VI. Wasserflut

Composer(s)

Franz Schubert

Artist(s)

Arnaud Thorette

Rosemary Standley

Ensemble Contraste

Johan Farjot

Winterreise, D. 911 Op. 89: VI. Wasserflut

$2.30

Moment Musical in F Minor, D. 780 Op. 94 No. 3

Composer(s)

Franz Schubert

Artist(s)

Arnaud Thorette

Ensemble Contraste

Johan Farjot

Moment Musical in F Minor, D. 780 Op. 94 No. 3

$2.30

Du bist die Ruh, D. 776 Op. 59

Composer(s)

Franz Schubert

Artist(s)

Arnaud Thorette

Rosemary Standley

Ensemble Contraste

Johan Farjot

Du bist die Ruh, D. 776 Op. 59

$2.30
Total running time: 53 minutes.
Album information

A few years after the success of her album crossing Baroque music with folk, Love I Obey, the Franco-American singer Rosemary Standley visits Schubert, this time in the company of Ensemble Contraste.

'We all have a few notes of Schubert buried deep inside us' say the artists, who have got together around his music and brought to it an original sound texture, the result of their varied influences – classical, pop, jazz, folk. They have picked some of the best-known lieder (Ständchen, selections from Winterreise, etc.) and universally loved instrumental pieces, incorporating in them rhythms from other countries and instruments unusual in this repertory: the jazz trumpet of Airelle Besson, the guitar of Kevin Seddiki, the percussion of Jean-Luc Di Fraja join forces with the viola of Arnaud Thorette, the piano, cello and double bass of Ensemble Contraste – not forgetting the exceptional participation of the soprano Sandrine Piau, who joins Rosemary Standley for several duets. The arrangements are by Johan Farjot.
Related Artists
Reviews