Filters
Schubert, Shostakovich & Pártos
Schubert, Shostakovich & Pártos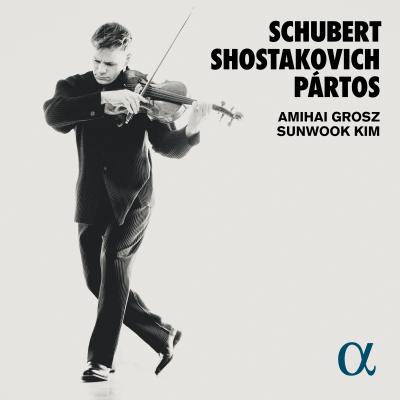 Inlay available for download
Booklet available for download
Yizkor (In Memoriam)

Artist(s)

Amihai Grosz

Sunwook Kim

Yizkor (In Memoriam)

$3.40

Arpeggione Sonata in A Minor, D. 821: I. Allegro moderato

Composer(s)

Franz Schubert

Artist(s)

Amihai Grosz

Sunwook Kim

Arpeggione Sonata in A Minor, D. 821: I. Allegro moderato

$4.60

Arpeggione Sonata in A Minor, D. 821: II. Adagio

Composer(s)

Franz Schubert

Artist(s)

Amihai Grosz

Sunwook Kim

Arpeggione Sonata in A Minor, D. 821: II. Adagio

$2.30

Arpeggione Sonata in A Minor, D. 821: III. Allegretto

Composer(s)

Franz Schubert

Artist(s)

Amihai Grosz

Sunwook Kim

Arpeggione Sonata in A Minor, D. 821: III. Allegretto

$3.40

Viola Sonata in C Major, Op. 147: I. Moderato

Composer(s)

Dmitri Shostakovich

Artist(s)

Amihai Grosz

Sunwook Kim

Viola Sonata in C Major, Op. 147: I. Moderato

$3.40

Viola Sonata in C Major, Op. 147: II. Allegretto

Composer(s)

Dmitri Shostakovich

Artist(s)

Amihai Grosz

Sunwook Kim

Viola Sonata in C Major, Op. 147: II. Allegretto

$3.40

Viola Sonata in C Major, Op. 147: III. Adagio

Composer(s)

Dmitri Shostakovich

Artist(s)

Amihai Grosz

Sunwook Kim

Viola Sonata in C Major, Op. 147: III. Adagio

$5.75
Total running time: 70 minutes.

Album information

For his first solo album viola player Amihai Grosz joins forces with  pianist Sunwook Kim, who made history in 2006 when he became the first Asian to win the Leeds International Piano Competition - aged just eighteen.

Fascinated by the viola, Amihai Grosz loves the sound of his instrument, which is so close to the human voice. He also likes the duality of its timbre, midway between the violin and the cello, which in a sense reflects his own musical education, with its combination of Mediterranean influences and Russian and Germanic traditions.

A founding member of the Jerusalem Quartet, Amihai now pursues a solo career while holding the post of principal viola of the Berliner Philharmoniker. Amihai delivers a powerful recording of music by Schubert, Shostakovich and the Hungarian-Israeli composer Ödön Pártos.

Amihai plays a magnificent Gasparo da Salò viola of 1570. This recording is the first of several projects for Alpha.
Related Artists
Reviews