Filters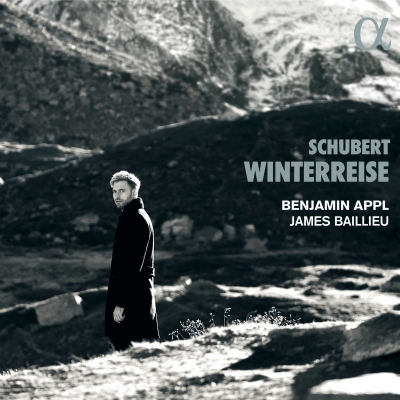 Inlay available for download
Booklet available for download
Die Winterreise, D. 911: I. Gute Nacht

Composer(s)

Franz Schubert

Artist(s)

Benjamin Appl

James Baillieu

Die Winterreise, D. 911: I. Gute Nacht

$2.30

Die Winterreise, D. 911: II. Die Wetterfahne

Composer(s)

Franz Schubert

Artist(s)

Benjamin Appl

James Baillieu

Die Winterreise, D. 911: II. Die Wetterfahne

$2.30

Die Winterreise, D. 911: III. Gefrorne Tränen

Composer(s)

Franz Schubert

Artist(s)

Benjamin Appl

James Baillieu

Die Winterreise, D. 911: III. Gefrorne Tränen

$2.30

Die Winterreise, D. 911: IV. Erstarrung

Composer(s)

Franz Schubert

Artist(s)

Benjamin Appl

James Baillieu

Die Winterreise, D. 911: IV. Erstarrung

$2.30

Die Winterreise, D. 911: V. Der Lindenbaum

Composer(s)

Franz Schubert

Artist(s)

Benjamin Appl

James Baillieu

Die Winterreise, D. 911: V. Der Lindenbaum

$2.30

Die Winterreise, D. 911: VI. Wasserflut

Composer(s)

Franz Schubert

Artist(s)

Benjamin Appl

James Baillieu

Die Winterreise, D. 911: VI. Wasserflut

$2.30

Die Winterreise, D. 911: VII. Auf dem Flusse

Composer(s)

Franz Schubert

Artist(s)

Benjamin Appl

James Baillieu

Die Winterreise, D. 911: VII. Auf dem Flusse

$2.30

Die Winterreise, D. 911: VIII. Rückblick

Composer(s)

Franz Schubert

Artist(s)

Benjamin Appl

James Baillieu

Die Winterreise, D. 911: VIII. Rückblick

$2.30

Die Winterreise, D. 911: IX. Irrlicht

Composer(s)

Franz Schubert

Artist(s)

Benjamin Appl

James Baillieu

Die Winterreise, D. 911: IX. Irrlicht

$2.30

Die Winterreise, D. 911: X. Rast

Composer(s)

Franz Schubert

Artist(s)

Benjamin Appl

James Baillieu

Die Winterreise, D. 911: X. Rast

$2.30

Die Winterreise, D. 911: XI. Frühlingstraum

Composer(s)

Franz Schubert

Artist(s)

Benjamin Appl

James Baillieu

Die Winterreise, D. 911: XI. Frühlingstraum

$2.30

Die Winterreise, D. 911: XII. Einsamkeit

Composer(s)

Franz Schubert

Artist(s)

Benjamin Appl

James Baillieu

Die Winterreise, D. 911: XII. Einsamkeit

$2.30

Die Winterreise, D. 911: XIII. Die Post

Composer(s)

Franz Schubert

Artist(s)

Benjamin Appl

James Baillieu

Die Winterreise, D. 911: XIII. Die Post

$2.30

Die Winterreise, D. 911: XIV. Der greise Kopf

Composer(s)

Franz Schubert

Artist(s)

Benjamin Appl

James Baillieu

Die Winterreise, D. 911: XIV. Der greise Kopf

$2.30

Die Winterreise, D. 911: XV. Die Krähe

Composer(s)

Franz Schubert

Artist(s)

Benjamin Appl

James Baillieu

Die Winterreise, D. 911: XV. Die Krähe

$2.30

Die Winterreise, D. 911: XVI. Letzte Hoffnung

Composer(s)

Franz Schubert

Artist(s)

Benjamin Appl

James Baillieu

Die Winterreise, D. 911: XVI. Letzte Hoffnung

$2.30

Die Winterreise, D. 911: XVII. Im Dorfe

Composer(s)

Franz Schubert

Artist(s)

Benjamin Appl

James Baillieu

Die Winterreise, D. 911: XVII. Im Dorfe

$2.30

Die Winterreise, D. 911: XVIII. Der stürmische Morgen

Composer(s)

Franz Schubert

Artist(s)

Benjamin Appl

James Baillieu

Die Winterreise, D. 911: XVIII. Der stürmische Morgen

$2.30

Die Winterreise, D. 911: XIX. Täuschung

Composer(s)

Franz Schubert

Artist(s)

Benjamin Appl

James Baillieu

Die Winterreise, D. 911: XIX. Täuschung

$2.30

Die Winterreise, D. 911: XX. Der Wegweisser

Composer(s)

Franz Schubert

Artist(s)

Benjamin Appl

James Baillieu

Die Winterreise, D. 911: XX. Der Wegweisser

$2.30

Die Winterreise, D. 911: XXI. Das Wirtshaus

Composer(s)

Franz Schubert

Artist(s)

Benjamin Appl

James Baillieu

Die Winterreise, D. 911: XXI. Das Wirtshaus

$2.30

Die Winterreise, D. 911: XXII. Mut

Composer(s)

Franz Schubert

Artist(s)

Benjamin Appl

James Baillieu

Die Winterreise, D. 911: XXII. Mut

$2.30

Die Winterreise, D. 911: XXIII. Die Nebensonnen

Composer(s)

Franz Schubert

Artist(s)

Benjamin Appl

James Baillieu

Die Winterreise, D. 911: XXIII. Die Nebensonnen

$2.30

Die Winterreise, D. 911: XXIV. Der Leiermann

Composer(s)

Franz Schubert

Artist(s)

Benjamin Appl

James Baillieu

Die Winterreise, D. 911: XXIV. Der Leiermann

$2.30
Total running time: 69 minutes.



Album information

Benjamin Appl makes his Alpha Classics debut with Franz Schubert's masterpiece Winterreise. Benjamin embarks upon his extraordinary Winter Journey with his long-time collaborator and pianist James Baillieu. A Winterreise for today's generation.

Franz Schubert's masterpiece, his song cycle Winterreise ('Winter Journey'), was written shortly before his death in 1828, at the age of only 31. On his winter journey, the singer wanders as a lost soul in harsh terrain, wracked by conflicting emotions, but consoled by his memories of kinder times.

Benjamin Appl commented, 'Every time I perform it, Winterreise feels like a new and different journey, depending on my own mood, the atmosphere in the hall, and of course the shared creativity with the all-important pianist. For singers, Schubert's wanderer is a lifetime companion, yet a daunting one as we confront all the great recordings and performances that are already out there. The challenge for every singer is not to be inhibited, but to find fresh ways of understanding and transmitting both words and music to their own generation. Somehow, in Winterreise, Schubert has made space for that potential. As Benjamin Britten said: "Every time I come back to it, I am amazed not only by the extraordinary mastery of it, but by the renewal of the magic. Each time, the mystery remains."' Winterreise is Benjamin Appl's first release for Alpha Classics as part of a multi-album deal. 
Related Artists
Reviews