Filters
Schumann & Mahler: Lieder
Schumann & Mahler: Lieder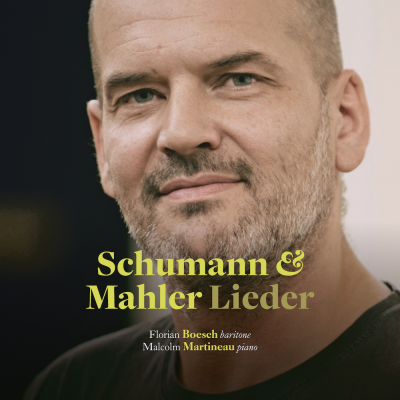 Inlay available for download
Booklet available for download
Liederkreis Op. 39: No. 1. In der Fremde

Composer(s)

Robert Schumann

Artist(s)

Florian Boesch

Malcolm Martineau

Liederkreis Op. 39: No. 1. In der Fremde

$2.30

Liederkreis Op. 39: No. 2. Intermezzo

Composer(s)

Robert Schumann

Artist(s)

Florian Boesch

Malcolm Martineau

Liederkreis Op. 39: No. 2. Intermezzo

$2.30

Liederkreis Op. 39: No. 3. Waldesgesprach

Composer(s)

Robert Schumann

Artist(s)

Florian Boesch

Malcolm Martineau

Liederkreis Op. 39: No. 3. Waldesgesprach

$2.30

Liederkreis Op. 39: No. 4. Die Stille

Composer(s)

Robert Schumann

Artist(s)

Florian Boesch

Malcolm Martineau

Liederkreis Op. 39: No. 4. Die Stille

$2.30

Liederkreis Op. 39: No. 5. Mondnacht

Composer(s)

Robert Schumann

Artist(s)

Florian Boesch

Malcolm Martineau

Liederkreis Op. 39: No. 5. Mondnacht

$2.30

Liederkreis Op. 39: No. 6. Schone Fremde

Composer(s)

Robert Schumann

Artist(s)

Florian Boesch

Malcolm Martineau

Liederkreis Op. 39: No. 6. Schone Fremde

$2.30

Liederkreis Op. 39: No. 7. Auf einer Burg

Composer(s)

Robert Schumann

Artist(s)

Florian Boesch

Malcolm Martineau

Liederkreis Op. 39: No. 7. Auf einer Burg

$2.30

Liederkreis Op. 39: No. 8. In der Fremde

Composer(s)

Robert Schumann

Artist(s)

Florian Boesch

Malcolm Martineau

Liederkreis Op. 39: No. 8. In der Fremde

$2.30

Liederkreis Op. 39: No. 9. Wehnut

Composer(s)

Robert Schumann

Artist(s)

Florian Boesch

Malcolm Martineau

Liederkreis Op. 39: No. 9. Wehnut

$2.30

Liederkreis Op. 39: No. 10. Zweilicht

Composer(s)

Robert Schumann

Artist(s)

Florian Boesch

Malcolm Martineau

Liederkreis Op. 39: No. 10. Zweilicht

$2.30

Liederkreis Op. 39: No. 11. Im Walde

Composer(s)

Robert Schumann

Artist(s)

Florian Boesch

Malcolm Martineau

Liederkreis Op. 39: No. 11. Im Walde

$2.30

Liederkreis Op. 39: No. 12. Fruhlingsnacht

Composer(s)

Robert Schumann

Artist(s)

Florian Boesch

Malcolm Martineau

Liederkreis Op. 39: No. 12. Fruhlingsnacht

$2.30

Lieder und Gesange aus Wilhelm Meister Op. 98a: Wer nie sein Brot mit Tranen ass

Composer(s)

Robert Schumann

Artist(s)

Florian Boesch

Malcolm Martineau

Lieder und Gesange aus Wilhelm Meister Op. 98a: Wer nie sein Brot mit Tranen ass

$2.30

Lieder und Gesange aus Wilhelm Meister Op. 98a: Wer sich der Einsamkeit ergibt

Composer(s)

Robert Schumann

Artist(s)

Florian Boesch

Malcolm Martineau

Lieder und Gesange aus Wilhelm Meister Op. 98a: Wer sich der Einsamkeit ergibt

$2.30

Lieder und Gesange aus Wilhelm Meister Op. 98a: An die Türen will ich schleichen

Composer(s)

Robert Schumann

Artist(s)

Florian Boesch

Malcolm Martineau

Lieder und Gesange aus Wilhelm Meister Op. 98a: An die Türen will ich schleichen

$2.30

Lieder eines fahrenden Gesellen: Wenn mein Schatz Hochzeit macht

Composer(s)

Gustav Mahler

Artist(s)

Florian Boesch

Malcolm Martineau

Lieder eines fahrenden Gesellen: Wenn mein Schatz Hochzeit macht

$2.30

Lieder eines fahrenden Gesellen: Ging heut' morgen uber's Feld

Composer(s)

Gustav Mahler

Artist(s)

Florian Boesch

Malcolm Martineau

Lieder eines fahrenden Gesellen: Ging heut' morgen uber's Feld

$2.30

Lieder eines fahrenden Gesellen: Ich hab' ein glühend Messer

Composer(s)

Gustav Mahler

Artist(s)

Florian Boesch

Malcolm Martineau

Lieder eines fahrenden Gesellen: Ich hab' ein glühend Messer

$2.30

Lieder eines fahrenden Gesellen: Die zwei blauen Augen

Composer(s)

Gustav Mahler

Artist(s)

Florian Boesch

Malcolm Martineau

Lieder eines fahrenden Gesellen: Die zwei blauen Augen

$2.30
Total running time: 47 minutes.

Album information

This award-winning recording brings together Florian Boesch, one of today's foremost Lieder interpreters, and Malcolm Martineau, one of the leading accompanists of his generation.

With a partnership honed over many concerts and several recordings together, including a GRAMMY-nominated Die schöne Müllerin, the pair turn their attention to two of the greatest song cycles of the nineteenth century. It was named winner in the Vocal category at the 2019 BBC Music Magazine Awards.

The recording opens with Schumann's Op. 39, Liederkreis, settings of Joseph von Eichedorff's poems, and finishes with Mahler's Lieder eines fahrenden Gesellen, written around forty years later. The songs selected all tell, in varying hues, of the Romantic individual's sense of alienation from others and of transcendence, or the longing for it.

An expressive and accomplished storyteller Boesch's perceptive phrasing and exquisite range of colours is well matched by Martineau's virtuosic and perfectly synchronized accompaniment.
Related Artists
Reviews