Filters
Searching for Ludwig: Beethoven, Sollima & Ferré
Searching for Ludwig: Beethoven, Sollima & Ferré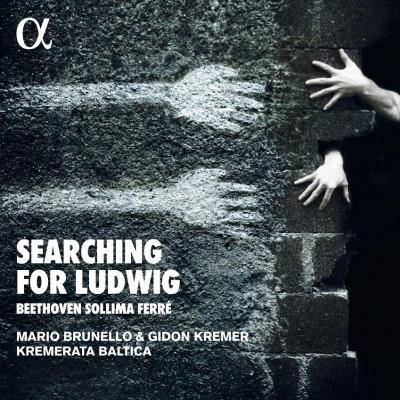 Booklet available for download
Muss es sein? Es muss sein!

Artist(s)

Mario Brunello

Léo Ferré

Kremerata Baltica

Muss es sein? Es muss sein!

$2.30

String Quartet No. 16 in F Major, Op. 135: I. Allegretto

Composer(s)

Ludwig van Beethoven

Artist(s)

Mario Brunello

Kremerata Baltica

String Quartet No. 16 in F Major, Op. 135: I. Allegretto

$2.30

String Quartet No. 16 in F Major, Op. 135: II. Vivace

Composer(s)

Ludwig van Beethoven

Artist(s)

Mario Brunello

Kremerata Baltica

String Quartet No. 16 in F Major, Op. 135: II. Vivace

$2.30

String Quartet No. 16 in F Major, Op. 135: III. Lento assai, cantante e tranquillo

Composer(s)

Ludwig van Beethoven

Artist(s)

Mario Brunello

Kremerata Baltica

String Quartet No. 16 in F Major, Op. 135: III. Lento assai, cantante e tranquillo

$3.40

String Quartet No. 16 in F Major, Op. 135: IV. Grave, ma non troppo tratto - Allegro

Composer(s)

Ludwig van Beethoven

Artist(s)

Mario Brunello

Kremerata Baltica

String Quartet No. 16 in F Major, Op. 135: IV. Grave, ma non troppo tratto - Allegro

$2.30

Note Sconte: I. Lento

Composer(s)

Giovanni Sollima

Artist(s)

Mario Brunello

Kremerata Baltica

Note Sconte: I. Lento

$2.30

Note Sconte: II. Un Canone Allegro

Composer(s)

Giovanni Sollima

Artist(s)

Mario Brunello

Kremerata Baltica

Note Sconte: II. Un Canone Allegro

$2.30

Note Sconte: III. Dal Quartetto Op. 131 di Ludwig van Beethoven Presto

Composer(s)

Giovanni Sollima

Artist(s)

Mario Brunello

Kremerata Baltica

Note Sconte: III. Dal Quartetto Op. 131 di Ludwig van Beethoven Presto

$2.30

Note Sconte: IV. Leopold Cadenza

Composer(s)

Giovanni Sollima

Artist(s)

Mario Brunello

Kremerata Baltica

Note Sconte: IV. Leopold Cadenza

$2.30

Note Sconte: V. Il deserto rosso

Composer(s)

Giovanni Sollima

Artist(s)

Mario Brunello

Kremerata Baltica

Note Sconte: V. Il deserto rosso

$2.30

String Quartet No. 14 in C-Sharp Minor, Op. 131: I. Adagio ma non troppo e molto espressivo

Composer(s)

Ludwig van Beethoven

Artist(s)

Gidon Kremer

Kremerata Baltica

String Quartet No. 14 in C-Sharp Minor, Op. 131: I. Adagio ma non troppo e molto espressivo

$2.30

String Quartet No. 14 in C-Sharp Minor, Op. 131: II. Allegro molto vivace

Composer(s)

Ludwig van Beethoven

Artist(s)

Gidon Kremer

Kremerata Baltica

String Quartet No. 14 in C-Sharp Minor, Op. 131: II. Allegro molto vivace

$2.30

String Quartet No. 14 in C-Sharp Minor, Op. 131: III. Allegro moderato

Composer(s)

Ludwig van Beethoven

Artist(s)

Gidon Kremer

Kremerata Baltica

String Quartet No. 14 in C-Sharp Minor, Op. 131: III. Allegro moderato

$2.30

String Quartet No. 14 in C-Sharp Minor, Op. 131: IV. Andante ma non troppo e molto cantabile

Composer(s)

Ludwig van Beethoven

Artist(s)

Gidon Kremer

Kremerata Baltica

String Quartet No. 14 in C-Sharp Minor, Op. 131: IV. Andante ma non troppo e molto cantabile

$4.60

String Quartet No. 14 in C-Sharp Minor, Op. 131: V. Presto

Composer(s)

Ludwig van Beethoven

Artist(s)

Gidon Kremer

Kremerata Baltica

String Quartet No. 14 in C-Sharp Minor, Op. 131: V. Presto

$2.30

String Quartet No. 14 in C-Sharp Minor, Op. 131: VI. Adagio quasi un poco andante

Composer(s)

Ludwig van Beethoven

Artist(s)

Gidon Kremer

Kremerata Baltica

String Quartet No. 14 in C-Sharp Minor, Op. 131: VI. Adagio quasi un poco andante

$2.30

String Quartet No. 14 in C-Sharp Minor, Op. 131: VII. Allegro

Composer(s)

Ludwig van Beethoven

Artist(s)

Gidon Kremer

Kremerata Baltica

String Quartet No. 14 in C-Sharp Minor, Op. 131: VII. Allegro

$2.30
Total running time: 85 minutes.

Album information

Gidon Kremer and Mario Brunello pay tribute to Beethoven by presenting two of his most famous quartets in a version for string orchestra played by Kremerata Baltica. 

The ensemble's founder Gidon Kremer directs op.131 from the violin, while Mario Brunello conducts op.135 and adds two contemporary pieces, one by Léo Ferré, 'the revolutionary, anarchic, inspired singer-songwriter and great lover of Beethoven': Muss es sein? Es muss sein! 'We perform this hymn to "free music" in a version arranged by Valter Sivilotti for cello, strings and percussion with Ferré's original voice. (...) Note sconte means "hidden notes" in Venetian dialect. Franco Rossi, the legendary cellist of the Quartetto italiano, always invited his students, including me, to look for and give importance to the note sconte in the scores of string quartets. I asked Giovanni Sollima to write a piece in memory of Franco Rossi, of his great passion for Beethoven and his note sconte', comments Mario Brunello. 'These two works form a bridge between Beethoven and our times, giving the expression "Searching for Ludwig" a concrete reality in sound', concludes Gidon Kremer.
Related Artists
Reviews