Filters
Beethoven: String Quintets Op. 29 and 104, Fugue Op. 137
Beethoven: String Quintets Op. 29 and 104, Fugue Op. 137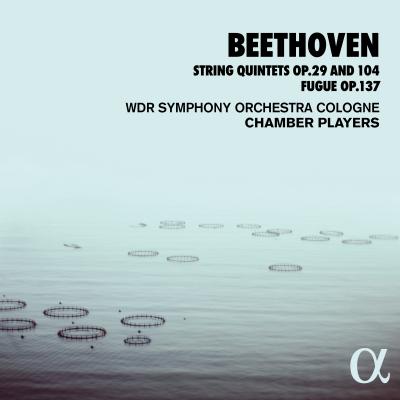 Inlay available for download
Booklet available for download
String Quintet in C Major, Op. 29: I. Allegro moderato

Composer(s)

Ludwig van Beethoven

Artist(s)

WDR Symphony Orchestra Cologne Chamber Players

String Quintet in C Major, Op. 29: I. Allegro moderato

$3.40

String Quintet in C Major, Op. 29: II. Adagio molto espressivo

Composer(s)

Ludwig van Beethoven

Artist(s)

WDR Symphony Orchestra Cologne Chamber Players

String Quintet in C Major, Op. 29: II. Adagio molto espressivo

$3.40

String Quintet in C Major, Op. 29: III. Scherzo (Allegro)

Composer(s)

Ludwig van Beethoven

Artist(s)

WDR Symphony Orchestra Cologne Chamber Players

String Quintet in C Major, Op. 29: III. Scherzo (Allegro)

$2.30

String Quintet in C Major, Op. 29: IV. Presto

Composer(s)

Ludwig van Beethoven

Artist(s)

WDR Symphony Orchestra Cologne Chamber Players

String Quintet in C Major, Op. 29: IV. Presto

$3.40

String Quintet in C Minor, Op. 104: I. Allegro con brio

Composer(s)

Ludwig van Beethoven

Artist(s)

WDR Symphony Orchestra Cologne Chamber Players

String Quintet in C Minor, Op. 104: I. Allegro con brio

$3.40

String Quintet in C Minor, Op. 104: II. Andante cantabile con variazioni

Composer(s)

Ludwig van Beethoven

Artist(s)

WDR Symphony Orchestra Cologne Chamber Players

String Quintet in C Minor, Op. 104: II. Andante cantabile con variazioni

$3.40

String Quintet in C Minor, Op. 104: III. Menuetto (Quasi allegro)

Composer(s)

Ludwig van Beethoven

Artist(s)

WDR Symphony Orchestra Cologne Chamber Players

String Quintet in C Minor, Op. 104: III. Menuetto (Quasi allegro)

$2.30

String Quintet in C Minor, Op. 104: IV. Finale (Prestissimo)

Composer(s)

Ludwig van Beethoven

Artist(s)

WDR Symphony Orchestra Cologne Chamber Players

String Quintet in C Minor, Op. 104: IV. Finale (Prestissimo)

$3.40

Fugue in D Major, Op. 137

Composer(s)

Ludwig van Beethoven

Artist(s)

WDR Symphony Orchestra Cologne Chamber Players

Fugue in D Major, Op. 137

$2.30
Total running time: 66 minutes.
Album information

Here three works chosen to represent three key moments in Beethoven's life are performed by chamber ensemble.

With this recording of Beethoven's chamber music Alpha begins a collaboration with the WDR of Cologne and its various ensembles. Here a group of chamber musicians from the symphony orchestra presents the string quintets Op. 29 (1801) and Op. 104 (1817), thus linking Beethoven's exuberant early period with that of the worry, discouragement and anguish caused by the conflict over custody of his nephew Karl. The disc comes to a majestic conclusion with the Fugue, Op. 137 (1817).
Related Artists
Reviews