Filters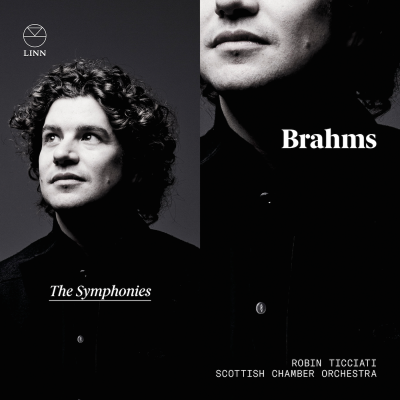 Inlay available for download
Booklet available for download
Symphony No. 1 in C Minor, Op. 68 – I. Un poco sostenuto – Allegro

Composer(s)

Johannes Brahms

Artist(s)

Robin Ticciati

Scottish Chamber Orchestra

Symphony No. 1 in C Minor, Op. 68 – I. Un poco sostenuto – Allegro

$4.60

Symphony No. 1 in C Minor, Op. 68 – II. Andante sostenuto

Composer(s)

Johannes Brahms

Artist(s)

Robin Ticciati

Scottish Chamber Orchestra

Symphony No. 1 in C Minor, Op. 68 – II. Andante sostenuto

$3.40

Symphony No. 1 in C Minor, Op. 68 – III. Un poco allegretto e grazioso

Composer(s)

Johannes Brahms

Artist(s)

Robin Ticciati

Scottish Chamber Orchestra

Symphony No. 1 in C Minor, Op. 68 – III. Un poco allegretto e grazioso

$2.30

Symphony No. 1 in C Minor, Op. 68 – IV. Adagio – Allegro non troppo, ma con brio

Composer(s)

Johannes Brahms

Artist(s)

Robin Ticciati

Scottish Chamber Orchestra

Symphony No. 1 in C Minor, Op. 68 – IV. Adagio – Allegro non troppo, ma con brio

$5.75

Symphony No. 2 in D Major, Op. 73 – I. Allegro non troppo

Composer(s)

Johannes Brahms

Artist(s)

Robin Ticciati

Scottish Chamber Orchestra

Symphony No. 2 in D Major, Op. 73 – I. Allegro non troppo

$4.60

Symphony No. 2 in D Major, Op. 73 – II. Adagio non troppo

Composer(s)

Johannes Brahms

Artist(s)

Robin Ticciati

Scottish Chamber Orchestra

Symphony No. 2 in D Major, Op. 73 – II. Adagio non troppo

$3.40

Symphony No. 2 in D Major, Op. 73 – III. Allegretto grazioso (quasi andantino)

Composer(s)

Johannes Brahms

Artist(s)

Robin Ticciati

Scottish Chamber Orchestra

Symphony No. 2 in D Major, Op. 73 – III. Allegretto grazioso (quasi andantino)

$2.30

Symphony No. 2 in D Major, Op. 73 – IV. Allegro con spirito

Composer(s)

Johannes Brahms

Artist(s)

Robin Ticciati

Scottish Chamber Orchestra

Symphony No. 2 in D Major, Op. 73 – IV. Allegro con spirito

$3.40

Symphony No. 3 in F Major, Op. 90 – I. Allegro con brio

Composer(s)

Johannes Brahms

Artist(s)

Robin Ticciati

Scottish Chamber Orchestra

Symphony No. 3 in F Major, Op. 90 – I. Allegro con brio

$4.60

Symphony No. 3 in F Major, Op. 90 – II. Andante

Composer(s)

Johannes Brahms

Artist(s)

Robin Ticciati

Scottish Chamber Orchestra

Symphony No. 3 in F Major, Op. 90 – II. Andante

$3.40

Symphony No. 3 in F Major, Op. 90 – III. Poco allegretto

Composer(s)

Johannes Brahms

Artist(s)

Robin Ticciati

Scottish Chamber Orchestra

Symphony No. 3 in F Major, Op. 90 – III. Poco allegretto

$2.30

Symphony No. 3 in F Major, Op. 90 – IV. Allegro

Composer(s)

Johannes Brahms

Artist(s)

Robin Ticciati

Scottish Chamber Orchestra

Symphony No. 3 in F Major, Op. 90 – IV. Allegro

$3.40

Symphony No. 4 in E Minor, Op. 98 – I. Allegro non troppo

Composer(s)

Johannes Brahms

Artist(s)

Robin Ticciati

Scottish Chamber Orchestra

Symphony No. 4 in E Minor, Op. 98 – I. Allegro non troppo

$4.60

Symphony No. 4 in E Minor, Op. 98 – II. Andante moderato

Composer(s)

Johannes Brahms

Artist(s)

Robin Ticciati

Scottish Chamber Orchestra

Symphony No. 4 in E Minor, Op. 98 – II. Andante moderato

$3.40

Symphony No. 4 in E Minor, Op. 98 – III. Allegro giocoso

Composer(s)

Johannes Brahms

Artist(s)

Robin Ticciati

Scottish Chamber Orchestra

Symphony No. 4 in E Minor, Op. 98 – III. Allegro giocoso

$2.30

Symphony No. 4 in E Minor, Op. 98 – IV. Allegro energico e passionato

Composer(s)

Johannes Brahms

Artist(s)

Robin Ticciati

Scottish Chamber Orchestra

Symphony No. 4 in E Minor, Op. 98 – IV. Allegro energico e passionato

$3.40
Total running time: 151 minutes.





Album information

As Robin Ticciati enters his final season with the Scottish Chamber Orchestra, Linn celebrates his memorable tenure as Principal Conductor with a recording of four of the most sublime orchestral masterpieces ever written.

The recording legacy of these revolutionary and distinctive works serves to underscore the confidence Ticciati has, not only in his own vision for these symphonies, but also in his partnership with the musicians of the SCO, who relish Brahms' highly virtuosic orchestral writing. The SCO's renowned recordings of Mozart Symphonies are a natural predecessor to Brahms, who advances the form's classicism into the Romantic era.

Ahead of the SCO 15/16 Season, in which all four symphonies were performed, Ticciati set out his aims: "The challenge…is to find a Brahms sound with the orchestra. To find something dark, autumnal, yet transparent, fleet footed and steeped in counterpoint." By 2017, that Brahms sound was achieved; Ticciati's interpretations are both muscular and energized, with detail and life in every line. Ticciati's meticulous control of tempo, phrase shape and balance results in performances of extraordinary transparency and colour.

This recording marks a major landmark in Ticciati's career.  
Related Artists
Reviews