Filters
Mendelssohn: Violin Concerto No. 2 & 'Scottish' Symphony
Mendelssohn: Violin Concerto No. 2 & 'Scottish' Symphony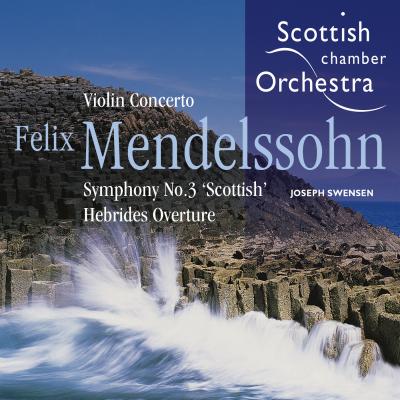 Inlay available for download
Booklet available for download
Hebrides Overture, Op. 26

Composer(s)

Felix Mendelssohn

Artist(s)

Joseph Swensen

Scottish Chamber Orchestra

Hebrides Overture, Op. 26

$3.40

Violin Concerto No. 2 in E minor, Op. 64 - I. Allegro molto appassionato - Presto

Composer(s)

Felix Mendelssohn

Artist(s)

Joseph Swensen

Scottish Chamber Orchestra

Violin Concerto No. 2 in E minor, Op. 64 - I. Allegro molto appassionato - Presto

$4.60

Violin Concerto No. 2 in E minor, Op. 64 - II. Andante - Allegretto non troppo

Composer(s)

Felix Mendelssohn

Artist(s)

Joseph Swensen

Scottish Chamber Orchestra

Violin Concerto No. 2 in E minor, Op. 64 - II. Andante - Allegretto non troppo

$3.40

Violin Concerto No. 2 in E minor, Op. 64 - III. Allegro molto vivace

Composer(s)

Felix Mendelssohn

Artist(s)

Joseph Swensen

Scottish Chamber Orchestra

Violin Concerto No. 2 in E minor, Op. 64 - III. Allegro molto vivace

$2.30

'Scottish' Symphony No. 3 in A minor, Op. 56 - I. Andante con moto - Allegro un poco agitato

Composer(s)

Felix Mendelssohn

Artist(s)

Joseph Swensen

Scottish Chamber Orchestra

'Scottish' Symphony No. 3 in A minor, Op. 56 - I. Andante con moto - Allegro un poco agitato

$4.60

'Scottish' Symphony No. 3 in A minor, Op. 56 - II. Vivace non troppo

Composer(s)

Felix Mendelssohn

Artist(s)

Joseph Swensen

Scottish Chamber Orchestra

'Scottish' Symphony No. 3 in A minor, Op. 56 - II. Vivace non troppo

$2.30

'Scottish' Symphony No. 3 in A minor, Op. 56 - III. Adagio

Composer(s)

Felix Mendelssohn

Artist(s)

Joseph Swensen

Scottish Chamber Orchestra

'Scottish' Symphony No. 3 in A minor, Op. 56 - III. Adagio

$3.40

'Scottish' Symphony No. 3 in A minor, Op. 56 - IV. Allegro vivacissimo - Allegro maestoso assai

Composer(s)

Felix Mendelssohn

Artist(s)

Joseph Swensen

Scottish Chamber Orchestra

'Scottish' Symphony No. 3 in A minor, Op. 56 - IV. Allegro vivacissimo - Allegro maestoso assai

$3.40
Total running time: 71 minutes.
Album information

An exceptionally beautiful recording of Mendelssohn, with violinist Joseph Swensen.

Acclaimed both as a conductor and violinist, Joseph Swensen combines his considerable talents in this, his first collaboration with the Scottish Chamber Orchestra. This exceptionally beautiful recording of some of Mendelssohn's loveliest music showcases Swensen's skills as a virtuoso violinist with playing of unusual grace.

The Hebrides, widely known as 'Fingal's Cave', is one of Mendelssohn's most popular works; its programmatic depiction of the Scottish sea cave has captured the imagination of listeners for many years. The Violin Concerto marks Mendelssohn's last large orchestral work. Considered an essential work for all aspiring concert violinists to master, it remains one of the most frequently performed concertos. Many regard the 'Scottish' Symphony as Mendelssohn's best orchestral work; once again taking inspiration from Scotland (this time Holyrood Chapel), the symphony contains one of Mendelssohn's finest scherzos.

Dedicated to Dorothy Delay.
Related Artists
Reviews