Filters
Mozart: 'Colloredo' Serenade K. 203 & Divertimento K. 251
Mozart: 'Colloredo' Serenade K. 203 & Divertimento K. 251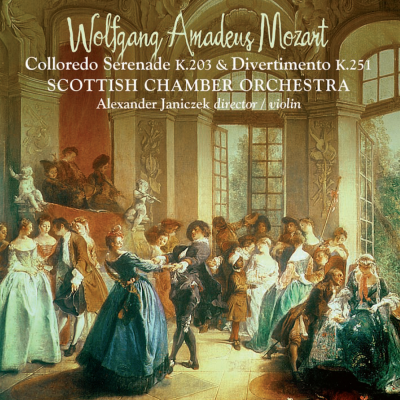 Inlay available for download
Booklet available for download
March in D major, K. 237

Composer(s)

Wolfgang Amadeus Mozart

Artist(s)

Alexander Janiczek

Alexander Janiczek - violin

Scottish Chamber Orchestra

March in D major, K. 237

$2.30

Serenade No. 4 in D major, K. 203 'Colloredo': I. Andante maestoso – Allegro assai

Composer(s)

Wolfgang Amadeus Mozart

Artist(s)

Alexander Janiczek

Alexander Janiczek - violin

Scottish Chamber Orchestra

Serenade No. 4 in D major, K. 203 'Colloredo': I. Andante maestoso – Allegro assai

$2.30

Serenade No. 4 in D major, K. 203 'Colloredo': II. Andante

Composer(s)

Wolfgang Amadeus Mozart

Artist(s)

Alexander Janiczek

Alexander Janiczek - violin

Scottish Chamber Orchestra

Serenade No. 4 in D major, K. 203 'Colloredo': II. Andante

$2.30

Serenade No. 4 in D major, K. 203 'Colloredo': III. Minuet – Trio

Composer(s)

Wolfgang Amadeus Mozart

Artist(s)

Alexander Janiczek

Alexander Janiczek - violin

Scottish Chamber Orchestra

Serenade No. 4 in D major, K. 203 'Colloredo': III. Minuet – Trio

$2.30

Serenade No. 4 in D major, K. 203 'Colloredo': IV. (Allegro)

Composer(s)

Wolfgang Amadeus Mozart

Artist(s)

Alexander Janiczek

Alexander Janiczek - violin

Scottish Chamber Orchestra

Serenade No. 4 in D major, K. 203 'Colloredo': IV. (Allegro)

$2.30

Serenade No. 4 in D major, K. 203 'Colloredo': V. Minuet – Trio

Composer(s)

Wolfgang Amadeus Mozart

Artist(s)

Alexander Janiczek

Alexander Janiczek - violin

Scottish Chamber Orchestra

Serenade No. 4 in D major, K. 203 'Colloredo': V. Minuet – Trio

$2.30

Serenade No. 4 in D major, K. 203 'Colloredo': VI. (Andante)

Composer(s)

Wolfgang Amadeus Mozart

Artist(s)

Alexander Janiczek

Alexander Janiczek - violin

Scottish Chamber Orchestra

Serenade No. 4 in D major, K. 203 'Colloredo': VI. (Andante)

$2.30

Serenade No. 4 in D major, K. 203 'Colloredo': VII. Minuet – Trio

Composer(s)

Wolfgang Amadeus Mozart

Artist(s)

Alexander Janiczek

Alexander Janiczek - violin

Scottish Chamber Orchestra

Serenade No. 4 in D major, K. 203 'Colloredo': VII. Minuet – Trio

$2.30

Serenade No. 4 in D major, K. 203 'Colloredo': VIII. Prestissimo

Composer(s)

Wolfgang Amadeus Mozart

Artist(s)

Alexander Janiczek

Alexander Janiczek - violin

Scottish Chamber Orchestra

Serenade No. 4 in D major, K. 203 'Colloredo': VIII. Prestissimo

$2.30

Divertimento No. 11 in D major, K. 251: I. Allegro molto

Composer(s)

Wolfgang Amadeus Mozart

Artist(s)

Alexander Janiczek

Alexander Janiczek - violin

Scottish Chamber Orchestra

Divertimento No. 11 in D major, K. 251: I. Allegro molto

$2.30

Divertimento No. 11 in D major, K. 251: II. Minuet - Trio

Composer(s)

Wolfgang Amadeus Mozart

Artist(s)

Alexander Janiczek

Alexander Janiczek - violin

Scottish Chamber Orchestra

Divertimento No. 11 in D major, K. 251: II. Minuet - Trio

$2.30

Divertimento No. 11 in D major, K. 251: III. Andantino

Composer(s)

Wolfgang Amadeus Mozart

Artist(s)

Alexander Janiczek

Alexander Janiczek - violin

Scottish Chamber Orchestra

Divertimento No. 11 in D major, K. 251: III. Andantino

$2.30

Divertimento No. 11 in D major, K. 251: IV. Minuet: Tema con Variazioni

Composer(s)

Wolfgang Amadeus Mozart

Artist(s)

Alexander Janiczek

Alexander Janiczek - violin

Scottish Chamber Orchestra

Divertimento No. 11 in D major, K. 251: IV. Minuet: Tema con Variazioni

$2.30

Divertimento No. 11 in D major, K. 251: V. Rondo: Allegro assai

Composer(s)

Wolfgang Amadeus Mozart

Artist(s)

Alexander Janiczek

Alexander Janiczek - violin

Scottish Chamber Orchestra

Divertimento No. 11 in D major, K. 251: V. Rondo: Allegro assai

$2.30

Divertimento No. 11 in D major, K. 251: VI. Marcia alla francese

Composer(s)

Wolfgang Amadeus Mozart

Artist(s)

Alexander Janiczek

Alexander Janiczek - violin

Scottish Chamber Orchestra

Divertimento No. 11 in D major, K. 251: VI. Marcia alla francese

$2.30
Total running time: 63 minutes.
Album information

Alexander Janiczek directs the SCO in the second volume of Mozart Serenades which includes the Serenade in D, Serenade K. 203 and Divertimento K. 251.

The Scottish Chamber Orchestra continues their hugely successful series of Mozart recordings, following on from Mozart Symphonies 38-41. Austrian-born violinist Alexander Janiczek directs the SCO in a fine performance of the rarely recorded 'Colloredo' Serenade and Divertimento K. 251. The 'Colloredo' Serenade, written for Hieronymous, Count von Colloredo, who was elected Prince-Archbishop of Salzburg in 1772, shows the eighteen-year-old Mozart writing in an easy, informal style, but showing great originality. 

The Divertimento K. 251, in the same key as the Serenade and similarly designed for summer entertainment, is full of spirited, catchy themes and dance music. It contains some delightful surprises! The SCO uses a stylish combination of modern instruments (except for natural trumpets), and period influences such as selective vibrato that results in clear textures and an exciting, entertaining performance in the natural acoustic of Greyfriars Kirk, Edinburgh. 
Related Artists
Reviews