Filters
Mozart: Symphonies 29, 31 (Paris), 32, 35 (Haffner) & 36 (Linz)
Mozart: Symphonies 29, 31 (Paris), 32, 35 (Haffner) & 36 (Linz)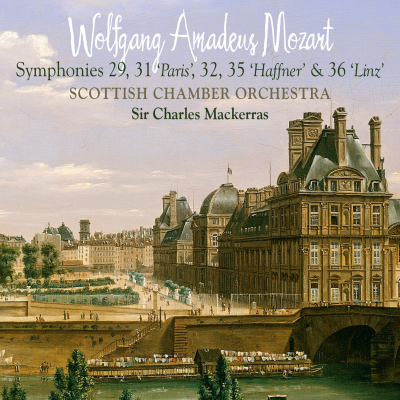 Inlay available for download
Booklet available for download
Symphony No. 29 in A major, K. 201 - I. Allegro moderato

Composer(s)

Wolfgang Amadeus Mozart

Artist(s)

Sir Charles Mackerras

Scottish Chamber Orchestra

Symphony No. 29 in A major, K. 201 - I. Allegro moderato

$3.40

Symphony No. 29 in A major, K. 201 - II. Andante

Composer(s)

Wolfgang Amadeus Mozart

Artist(s)

Sir Charles Mackerras

Scottish Chamber Orchestra

Symphony No. 29 in A major, K. 201 - II. Andante

$3.40

Symphony No. 29 in A major, K. 201 - III. Menuetto

Composer(s)

Wolfgang Amadeus Mozart

Artist(s)

Sir Charles Mackerras

Scottish Chamber Orchestra

Symphony No. 29 in A major, K. 201 - III. Menuetto

$2.30

Symphony No. 29 in A major, K. 201 IV. Allegro con spirito

Composer(s)

Wolfgang Amadeus Mozart

Artist(s)

Sir Charles Mackerras

Scottish Chamber Orchestra

Symphony No. 29 in A major, K. 201 IV. Allegro con spirito

$3.40

Symphony No. 31 in D major (Paris), K. 297 - I. Allegro assai

Composer(s)

Wolfgang Amadeus Mozart

Artist(s)

Sir Charles Mackerras

Scottish Chamber Orchestra

Symphony No. 31 in D major (Paris), K. 297 - I. Allegro assai

$3.40

Symphony No. 31 in D major (Paris), K. 297 - II. Andantino

Composer(s)

Wolfgang Amadeus Mozart

Artist(s)

Sir Charles Mackerras

Scottish Chamber Orchestra

Symphony No. 31 in D major (Paris), K. 297 - II. Andantino

$2.30

Symphony No. 31 in D major (Paris), K. 297 - II. Andante (alternative 2nd movement)

Composer(s)

Wolfgang Amadeus Mozart

Artist(s)

Sir Charles Mackerras

Scottish Chamber Orchestra

Symphony No. 31 in D major (Paris), K. 297 - II. Andante (alternative 2nd movement)

$2.30

Symphony No. 31 in D major (Paris), K. 297 - III. Allegro

Composer(s)

Wolfgang Amadeus Mozart

Artist(s)

Sir Charles Mackerras

Scottish Chamber Orchestra

Symphony No. 31 in D major (Paris), K. 297 - III. Allegro

$2.30

Symphony No. 32 in G major, K. 318 - I. Allegro spiritoso

Composer(s)

Wolfgang Amadeus Mozart

Artist(s)

Sir Charles Mackerras

Scottish Chamber Orchestra

Symphony No. 32 in G major, K. 318 - I. Allegro spiritoso

$2.30

Symphony No. 32 in G major, K. 318 - II. Andante

Composer(s)

Wolfgang Amadeus Mozart

Artist(s)

Sir Charles Mackerras

Scottish Chamber Orchestra

Symphony No. 32 in G major, K. 318 - II. Andante

$2.30

Symphony No. 35 in D major (Haffner), K. 385 - I. Allegro con spirito

Composer(s)

Wolfgang Amadeus Mozart

Artist(s)

Sir Charles Mackerras

Scottish Chamber Orchestra

Symphony No. 35 in D major (Haffner), K. 385 - I. Allegro con spirito

$2.30

Symphony No. 35 in D major (Haffner), K. 385 - II. Andante

Composer(s)

Wolfgang Amadeus Mozart

Artist(s)

Sir Charles Mackerras

Scottish Chamber Orchestra

Symphony No. 35 in D major (Haffner), K. 385 - II. Andante

$3.40

Symphony No. 35 in D major (Haffner), K. 385 - III. Menuetto

Composer(s)

Wolfgang Amadeus Mozart

Artist(s)

Sir Charles Mackerras

Scottish Chamber Orchestra

Symphony No. 35 in D major (Haffner), K. 385 - III. Menuetto

$2.30

Symphony No. 35 in D major (Haffner), K. 385 - IV. Finale Presto

Composer(s)

Wolfgang Amadeus Mozart

Artist(s)

Sir Charles Mackerras

Scottish Chamber Orchestra

Symphony No. 35 in D major (Haffner), K. 385 - IV. Finale Presto

$2.30

Symphony No. 36 in C major (Linz), K. 425 - I. Adagio – allegro spiritoso

Composer(s)

Wolfgang Amadeus Mozart

Artist(s)

Sir Charles Mackerras

Scottish Chamber Orchestra

Symphony No. 36 in C major (Linz), K. 425 - I. Adagio – allegro spiritoso

$3.40

Symphony No. 36 in C major (Linz), K. 425 - II. Adagio

Composer(s)

Wolfgang Amadeus Mozart

Artist(s)

Sir Charles Mackerras

Scottish Chamber Orchestra

Symphony No. 36 in C major (Linz), K. 425 - II. Adagio

$4.60

Symphony No. 36 in C major (Linz), K. 425 - III. Menuetto

Composer(s)

Wolfgang Amadeus Mozart

Artist(s)

Sir Charles Mackerras

Scottish Chamber Orchestra

Symphony No. 36 in C major (Linz), K. 425 - III. Menuetto

$2.30

Symphony No. 36 in C major (Linz), K. 425 - IV. Finale presto

Composer(s)

Wolfgang Amadeus Mozart

Artist(s)

Sir Charles Mackerras

Scottish Chamber Orchestra

Symphony No. 36 in C major (Linz), K. 425 - IV. Finale presto

$3.40
Total running time: 116 minutes.







Album information

Sir Charles Mackerras returns to conduct the Scottish Chamber Orchestra in a definitive performance of five of Mozart's finest symphonies.

The multi-award-winning partnership of the Scottish Chamber Orchestra and Sir Charles Mackerras is reunited in this second collection of Mozart Symphonies featuring Nos. 29, 31 ('Paris'), 32, 35 ('Haffner') & 36 ('Linz'). This much anticipated recording follows on from the astounding success of Mozart: Symphonies 38-41 which resulted in Mackerras and the SCO winning the Critics' Award at the 2009 BRIT Awards and led to Mozart: Symphonies 38-41 being named 'Disc of the Year' at the 2009 BBC Music Magazine Awards.

This recording includes both versions of the second movement of the 'Paris' Symphony; unusually Mackerras requested that the alternative version follows the original, rather than coming at the end of the album as an appendix. An obsessive musical researcher, Mackerras merged his considerable knowledge of these works with scores and parts he has been editing from available sources for years in preparation for this recording.  
Related Artists
Reviews