Filters
Schubert: Trio Opus 100, Sonatensatz & Notturno
Schubert: Trio Opus 100, Sonatensatz & Notturno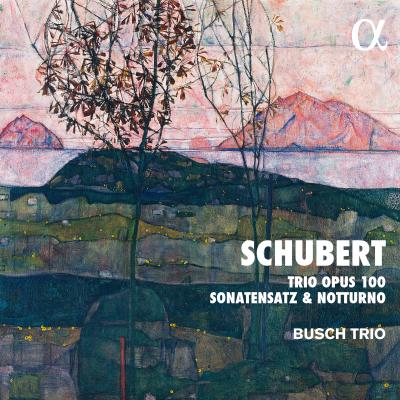 Inlay available for download
Booklet available for download
Piano Trio in E-Flat Major, Op. 100, D. 929: I. Allegro

Composer(s)

Franz Schubert

Piano Trio in E-Flat Major, Op. 100, D. 929: I. Allegro

$5.75

Piano Trio in E-Flat Major, Op. 100, D. 929: II. Andante con moto

Composer(s)

Franz Schubert

Piano Trio in E-Flat Major, Op. 100, D. 929: II. Andante con moto

$3.40

Piano Trio in E-Flat Major, Op. 100, D. 929: III. Scherzando. Allegro moderato

Composer(s)

Franz Schubert

Piano Trio in E-Flat Major, Op. 100, D. 929: III. Scherzando. Allegro moderato

$2.30

Piano Trio in E-Flat Major, Op. 100, D. 929: IV. Allegro moderato

Composer(s)

Franz Schubert

Piano Trio in E-Flat Major, Op. 100, D. 929: IV. Allegro moderato

$4.60

Piano Trio in B-Flat Major, D. 28 'Sonatensatz'

Composer(s)

Franz Schubert

Piano Trio in B-Flat Major, D. 28 'Sonatensatz'

$3.40

Notturno in E-Flat Major, Op. 148, D. 897

Composer(s)

Franz Schubert

Notturno in E-Flat Major, Op. 148, D. 897

$3.40
Total running time: 65 minutes.
Album information

After its recording of Dvořák's complete chamber music with piano, the Busch Trio now tackles three works by Franz Schubert, including his famous Piano Trio no.2. 

While the dying composer dedicated this masterpiece 'to nobody, save those who find pleasure in it', as if urging them to enjoy the life that was gradually ebbing away from him, his "Notturno" for piano trio D897 expresses an anguish and a sense of tragedy that makes it one of the most eloquent examples of Romantic lyricism. Schubert's early period is represented by his very first piece for piano and strings, the single-movement Sonatensatz D28, which he composed at the age of fifteen. Written following the youthful Schubert's expulsion from the Imperial Choir School in Vienna after his voice broke (he lost his mother the same year), this piece, still heavily influenced by Classicism, offers a troubling counterpoint to the works of his Romantic maturity, which reflect both the joy of creation and the suffering wrought by illness.
Related Artists
Reviews